Restaurant Tuna Blanca by Thierry Blouet
The Tuna Blanca Restaurant, focused on seafood and Mexican style, brings from the producers to your table the freshest seasonal ingredients from the fisheries and regional farms of Nayarit de México. Punta de Mita is dressed in white and long tablecloths with the unique touch of Thierry Blouet, who offers us an authentic feast of fresh organic ingredients from the region and traditional dishes from the Mexican Pacific coast.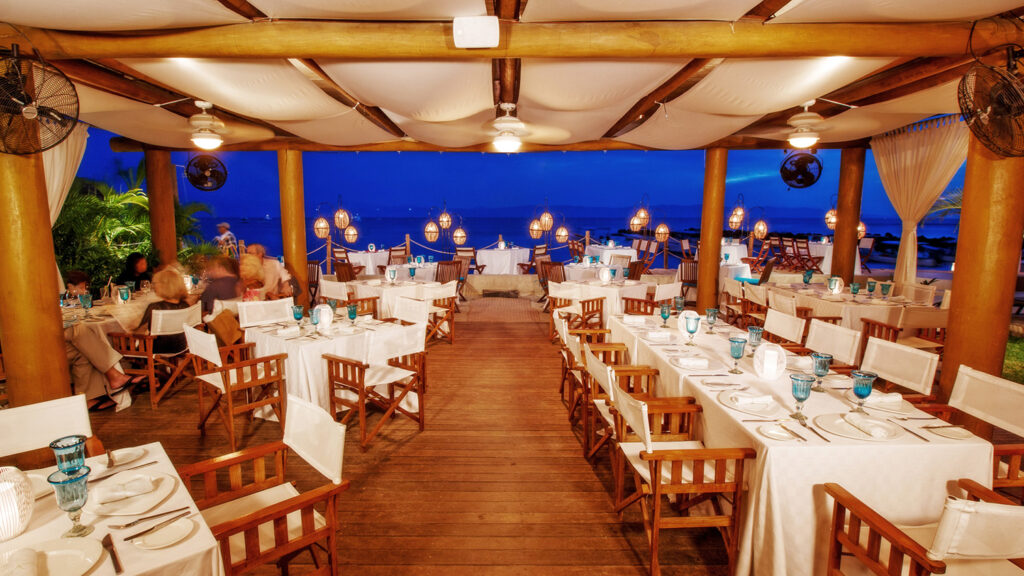 With a sophisticated atmosphere but preserving the casual coastal style, this seaside restaurant is the ideal meeting place during the day. At night, it becomes a romantic space with beautiful sunsets. Tuna Blanca bears the undisputed stamp of Grupo Café des Artistes, with world-class service and genuine Mexican hospitality.
BAR LOUNGE
Relax in an informal and refined atmosphere, this space with details designed by the famous designer Cristina Covalín is ideal for enjoying a delicious mezcalini with live music before your dinner in front of the sea.
MAIN ROOM
This area is perfect for enjoying your dinner with live music and air conditioning with a fresh and original design.
TERRACE
Enjoy our delicious dishes overlooking the sea and outdoors. Our terrace is covered so that you can enjoy your lunch or dinner despite the summer rains.
BEACH
Our beach is private so that you can enjoy a calm and sunny day in front of the sea. During the day, you can sunbathe on our lounge chairs and practice paddle boarding on the quiet Anclote beach, Punta de Mita.
There is no more romantic area in Tuna Blanca than this; the dinners for lovers here are truly magical and unforgettable.
OPEN FROM TUESDAY TO SUNDAY
FROM 5:00 PM TO 10:30 PM
Tuna Blanca Restaurant located at Av. Anclote Lote 5, Punta de Mita, Nayarit, Mexico
Contact us: 01 (329) 291-5414